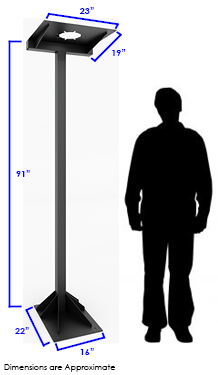 A complementary accessory to our fume extractors, the Elevated Stand is a one-of-a-kind, high-strength industrial piece of equipment that secures and elevates our fume extractors up and off of the floor.
The stand takes up almost zero floor space and doesn't require wall mounting or ceiling suspension; an option previously hard to come by without expensive overhead duct work.
The stand is ideal for applications with over sized machinery that floor filtration units are unable serve, for environments with open-concept work spaces where wall mounting isn't feasible, and even small facilities where floor space is limited.
Elevated Stand Specifications

Total Height

91" (7.58')

Base Platform

16" W x 22" L x 0.375″ Thickness

Top Platform

23" W x 19" L x 0.188″ Thickness

Weight – Stand Only

Approx. 133 lbs.

Stand Material

Carbon Steel with black powder coating
A few examples of how the Elevated Stand can be configured
Stand compatibilities
Sentry Air Systems fume extractors are known for their modular design, making them highly interchangeable for a variety of applications.
When creating the Elevated Stand, a similar design philosophy was used. The result is a highly compact, industrial-strength product that works with a variety of units and exhaust arms.
Elevated Stand Compatibility with Sentry Air units
Series 300
Series 400
Series 450
Ambient Air Cleaners
Exhaust Arms

SS-300-MS

SS-300-MSP

SS-300-SKY

SS-300-MIST

SS-400-MS

SS-400-MSP

SS-400-SKY

SS-400-MIST

SS-450-MS

SS-450-MSP

SS-450-SKY

SS-450-MIST

SS-700-FH

SS-2000-FH

Black Flex Sentry

Hybrid Arm

Python Arm

Sky Arm
Tested for strength and stability
All our products undergo stringent quality testing for safety and longevity. For the Elevated Stand, we spared no expense and used a third party engineering firm to conduct multiple structural tests including weight loads and bend radii to determine max operating levels. The results were favorable and reaffirmed the stand's quality and safety.
Why Facility Managers and their wallets will enjoy the stand
The Elevated Stand eliminates the headache of having to locate wall or ceiling space suitable for mounting heavy units. This is especially helpful if you work in a facility with strict codes or installation requirements. The only necessary install is securing the stand to a suitable floor.
Also, by mounting our fume extractor and hose to the stand, you are saving thousands in costly overhead duct work and you can easily take your entire fume extraction system with you if your business ever moves to a new location or building.
Contact Sentry Air
For more information about our Elevated Stand or to receive a free quote, contact Sentry Air Systems at 800.799.4609, email sales@sentryair.com, visit our website or fill out the feedback form below.