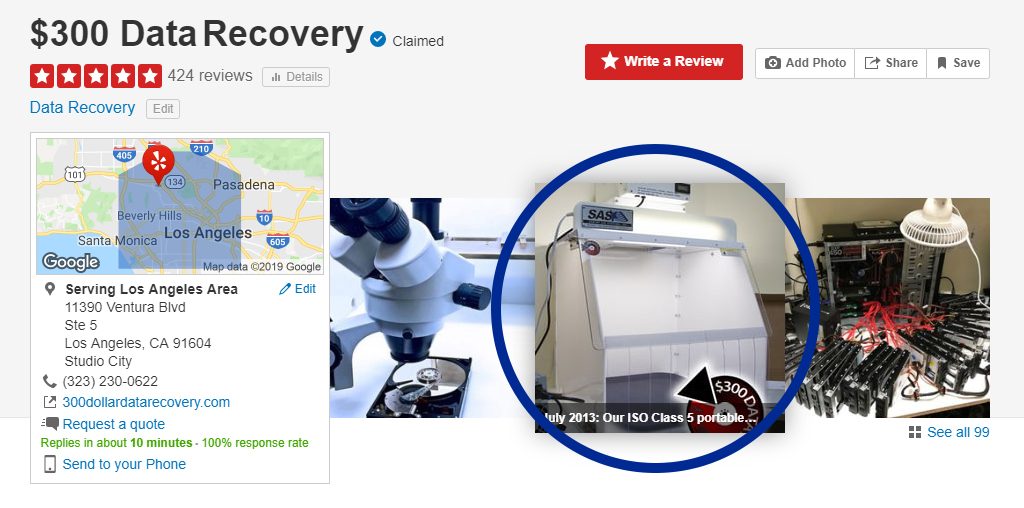 One of our sales team members happened to see a Yelp page for a data recovery company and — Boom! — there it was, a photo of a Sentry Air 18" Clean Room Mini.
Who is this company with the intriguing name? (Not to mention the even more intriguing business model.)
About $300 Data Recovery
We talked to $300 Data Recovery's Founder, Brian Cometa, for details about the company. California's $300 Data Recovery has been in business since 2007. In 2012, the company opened a retail storefront. The company added a Sentry Air clean room to its repertoire of tools in 2013. There are six full-time employees.
Benefits of using a Portable Clean Room in Data Recovery
A speck of dust on a hard drive can make it impossible to pull the data off the drive. That means opening a hard drive in the 'dirty' air of typical office environments could further damage an already faltering drive. One reason why most data recovery services can be expensive ($1500-$2500) is because they swap heads and platters – major repairs — within the confines of a clean room.
$300 Data Recovery does not do those types of repairs because "most hard drives don't need heads or platters," says Brian. The real source of a drive's problem is often firmware or corruption of some aspect of the virtual storage configuration, such as a partition. Technicians can often correct these types of problems. So what role does a portable clean room play in a business that values open communication with their customers and offers data recovery at a flat rate?
Portable Clean Rooms help with Accurate Diagnosis in Data Recovery
Hard drives may quit working for a variety of reasons. With the correct diagnosis, they can sometimes be brought back to life. Knowing why a drive failed can make a difference in the amount of data that technicians can recover. It can also aid a customer's decision-making process regarding the replacement or repair of the hard drive.

About the clean room, Brian says:
"Before getting our clean room, we never opened the hard drive's cover.

"Now, we are able to see for sure if there is platter or head damage, or perhaps see that there is no damage whatsoever, so the problem must be elsewhere (firmware corruption, for example).

"With the clean room, we can report back to our clients with certainty about the problem with their drive and perform repairs (for example, when heads are stuck to the platters) that we previously couldn't handle due to contamination concerns."

Brian Cometa
$300 Data Recovery
It makes us happy to know that our portable clean room helps $300 Data Recovery help their customers. There is nothing so forlorn as a computer user with a crashed drive and little hope.
$300 Data Recovery Links
Check out this in action video of $300 Data Recovery using our 18″ Portable Clean Room to swap a head on a hard drive disk. Check out their YouTube page for more videos.
Visit Their Website • Facebook • Twitter – @300DataRecovery • Customer Reviews
Contact us to learn about how our Data Recovery Portable Clean Rooms can help your hard drive disk or electronic repair facility!
If you need a very clean work environment, talk to a Sentry Air applications specialist. Call 800-799-4609, email sales@sentryair.com, visit our website, or fill out our contact form.