Cardiac surgeons require a great deal of imagery before they operate on a child's heart. They need to be able to visualize the arrangement of the heart's components and defects they want to correct before they embark on surgery. For decades, visualization imagery was provided by MRIs and CT scans. Now those imaging technologies are starting points for fully rendered 3D models of the heart, models the surgeons can touch and analyze from all angles before they enter the operating suite.
In a process jointly developed with the Images Processing Applications Lab at Arizona State University, the nationally recognized Cardiac 3D Print Lab at Heart Center at Phoenix Children's Hospital uses the images produced by MRIs and CT scans to print accurate 3D models of patients' hearts. In addition to providing crucial information to surgeons, the accuracy of the models improves communication with families, who may be struggling to understand their child's condition.
Leading-edge activities, however, aren't always free of workplace hazards. Production processes in the Cardiac 3D Print Lab entail the use of enamels, epoxies, and adhesives. Proper safeguards for these processes include adequate ventilation.
Testimonial from a Team Member at the Cardiac 3D Print Lab
Justin Ryan, a team member from the Cardiac 3D Print Lab, reviewed our ductless spray hood and python portable fume extractor after using it in the lab. He is very satisfied with the safety protection our products provide and supplied the following review.
Ductless Fume Hood/Spray Hood
The lab uses a 650 zPrinter (Z Corporation), a full-color printer, that prints a gypsum powder with ink binding agents. Printer models are coated in the fume hood to make them stronger. They also use the fume hood to mix epoxies and silicones for other medical applications.
Phoenix Children's Hospital houses the Cardiac 3D Print Lab which produces 3D printed models for surgical planning, family consultation, and medical education in addition to innovating research. Some research applications require epoxies, enamels, plastics, silicones, and dissolving agents. In order to achieve a safe environment without slowing down momentum in research, we purchased the SS-330-DSH. The ductless fume hood was quickly integrated into the laboratory without significant infrastructure change, which would have been very challenging in a hospital. The hood allows us to effortlessly move models from the 3D printer to coating or casting processes that need ventilation.
Portable Fume Extractor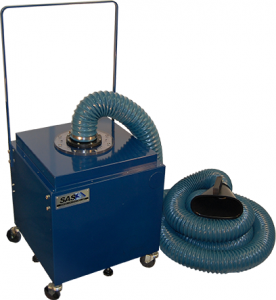 The facility also purchased a Model 400 Python Portable Fume Extractor (SS-400-PYT) for various fume extraction uses in the lab. The Cardiac 3D Print Lab uses a Model 400 Floor Sentry with a python hose like the unit shown in this photo to capture 3D printing particles. Like the Model 330 spray hood discussed above, the Model 400 traps respiratory hazards without expensive facility updates. Heavy-duty casters and use of standard 115 electrical outlets make the Model 400 a productive asset in innovative workplaces.
In addition, we recognized the capabilities of the ductless technology and purchased the SS-400-PYT. The Portable Floor Sentry is able to be pushed to the area in the lab that needs it the most. It is easy to utilize the Floor Sentry for ventilating our vacuum chambers one moment then to the modified printer with experimental materials.
Overall Phoenix Children's Hospital – Cardiac 3D Print Lab is very satisfied with our product due to the easy integration into the workflow. To close out the review Justin Ryan added:
Both Sentry units have been integrated into our lab and have been critical to its workflow.
About Phoenix Children's Hospital
Phoenix Children's Hospital is one of the largest pediatric hospitals in the US. The staff provides world-class care in over 70 specialty fields of pediatric medicine. Phoenix Children's Heart Center provides pediatric cardiac care to infants, children and teens with congenital heart defects, rhythm disturbances, heart failure and other cardiac-related problems.
3D Print Labs and Maker Spaces Benefit from Fume Extraction
Sentry Air is very pleased to know that our products are performing well in the Cardiac 3D Print Lab. To read more about our ductless fume extractors and 3D printing, check out earlier blogs about counting particles and 3D printing at the Children's Museum of Houston and our recent installation of an ambient air cleaner there.
If you're seeking appropriate ventilation for your lab processes without disruption to the physical facility, please give our applications specialists a call at 800.799.4609, Email us at sales@sentryair.com or contact us through our contact form
---
Resources
Cardiac 3-D Print Lab
http://heart.phoenixchildrens.org/cardiac-3-d-print-lab
Image Processing Lab, University of Arizona
http://ipalab.fulton.asu.edu/
3D printing fume extraction for the medical and surgical industry
https://sentryair.com/blog/medical/3d-printing-fume-extraction-for-the-medical-and-surgical-industry/
Video: Biomedical engineers create 3-D model of heart
http://heart.phoenixchildrens.org/biomedical-engineers-create-3-d-model-heart
Ultrafine particle emissions from desktop 3D printers, by Brent Stephens, Parham Azimi, Zeineb El Orcha, Tiffanie Ramos Department of Civil, Architectural and Environmental Engineering, Illinois Institute of Technology, Chicago, IL, USA, National Institute of Applied Sciences (INSA de Lyon), Lyon, France
http://bit.ly/11RTixO
Nanotoxicology: An Emerging Discipline Evolving from Studies of Ultrafine Particles, Environ Health Perspect. 2005 July; 113(7): 823–839, by Günter Oberdörster, Eva Oberdörster, and Jan Oberdörster
http://www.ncbi.nlm.nih.gov/pmc/articles/PMC1257642/