Company and Application
Bulow Biotech Prosthetics provides custom, functional and cosmetic prostheses to individuals who have suffered an amputation of an extremity. They use epoxies and adhesives to fabricate prostheses and were seeking a quick solution for removing fumes from the workplace.
Because the company was familiar with ducted systems and unsure of the effectiveness of ductless systems, Sentry Air representative McKay Hansen offered them a demonstration unit. The results of that demonstration are relayed in the comments below.
Epoxy and Adhesive Fume Control Solution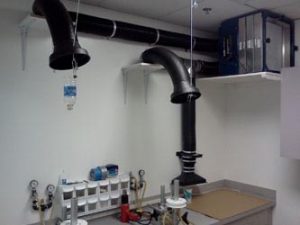 "We are utilizing the SS-400-FSD [Model 400 Dual Arm Fume Extractor] to evacuate fumes from epoxy resins that we use in the fabrication of our strong but lightweight prostheses. We are open from 8:00 am to 5:00 pm and our SS-400-FSD runs for most of the day, capturing and evacuating fumes in our lab while the epoxy resins and adhesives are in use."
Cost-effective
Utilizing a ductless system, Bulow Biotech Prosthetics was able to save money on building modifications from ductwork and makeup air production.
"I have worked with most chemicals commonly used within the prosthetic industry and have used the typical ventilation systems that are common in our industry. The ventilation systems commonly used involve overhead hoods and require custom made ductwork that is fixed in position at a work station. These systems are very expensive and often inadequate because the ventilation is usually not close enough to the source. Our current location is in a professional, medical office building and the most inexpensive quote for a ventilation system was $23,000.

The SS-400-FSD unit is a fraction of that cost, is very quiet and works so well that it is difficult to smell any trace of chemical in our laminating room where all resins and adhesives are used."
Kirk Simendinger, Certified Prosthetist, Bulow Biotech Prosthetics
Workplace friendly
The quiet unit provides little interruption to nearby workers, making the workplace a happier and better environment.
"We are very impressed with the efficiency, noise level and price of a unit that does a wonderful job of making our work environment safer and more enjoyable to work in. I would highly recommend this product to anyone in the prosthetic industry that is facing the task of eliminating fumes in their lab."

Kirk Simendinger, Certified Prosthetist, Bulow Biotech Prosthetics
---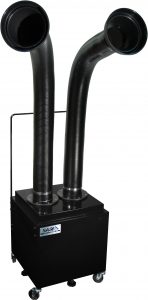 Dual Arm Chemical Fume Extraction
The Model #SS-400-FSD Floor Sentry Double is a dual-arm fume extractor that provides source-capture fume extraction to two work stations simultaneously. It features powerful suction and a dual-stage filtration chamber consisting of a Carbon Pre-filter and a 22 lb. Activated Carbon Filter.
This fume control solution also includes heavy-duty casters for easy mobility, self-supportive flex arms that are capable of 360-degree rotation, and an infinitely-adjustable variable speed controller.
Sentry Air offers several additional configuration options for chemical fume control, including wall-mounted, floor, and benchtop models.
---
Contact us today to get started on selecting the best-suited epoxy and adhesive fumes solution for your workplace
Call us today at 1-800-799-4609