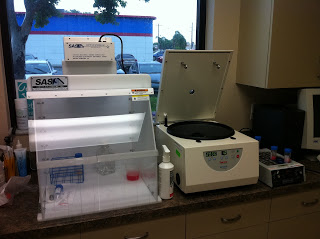 Photo Credit: Stemlogix, LLC.

"We are currently using the hoods [18" Wide Portable Clean Room Hoods] in Veterinary and Physician offices to separate stem cells from fat tissue. The doctors need something that is portable, light weight and requires minimal space. The Sentry Air Systems portable cleanroom hood allows us to ensure sterility of the samples we produce."
Kristin
Stemlogix, LLC
www.stemlogix.com
Weston, FL
Stemlogix is a regenerative medicine company committed to providing Veterinarians with the ability to deliver the most viable and potent stem cell therapy possible to dogs, cats and horses at the point-of-care.
While Stemlogix provides training to Veterinarians, Ageless Regenerative Institute [www.agelessregen.com] provides stem cell training to Physicians.  
For more information on Sentry Air's Portable Clean Room Hoods, call a Sales Representative at 1.800.799.4609, email us at sales@sentryair.com, or request a quote or more information here.