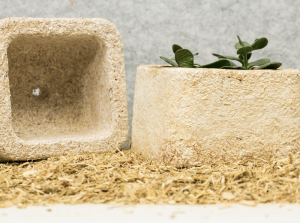 Ecovative Design is a biomaterials company that grows replacements of synthetic foam, such as MycoComposite™, that is comprised of agricultural waste (seed hulls) and mushroom mycelium. They utilize several Sentry Air Systems air purification systems, including both laminar flow hoods (also known as Portable Clean Room Hoods or Tissue Culture Hoods) and ductless chemical fume hoods.
At Ecovative, we required a quick, easy, and affordable solution for providing a sanitary working space for conducting fungal cell culture and media preparation. The Sentry Air Systems ductless hoods provided an ideal solution, rapidly delivering a complete laminar flow hood that continues to perform even years after the original purchase.

Ecovative used both the ductless HEPA laminar flow hoods, which continuously operate to clean the surrounding air and the ductless chemical hoods, which operate for at least two hours a day.
Maintenance is convenient, since the prefilters, chemical filters, and HEPA filters can be removed in less than a minute and replaced safely. The Ecovative team really enjoys the ductless hoods due to their convenience and ease of cleaning.

This is why we continue to purchase more Sentry Air Systems hoods as the company continues to grow

Gavin McIntyre, Ecovative Designs
Portable Clean Room Hoods [Vertical Laminar Flow]
Pictured above are two Portable Clean Room Hood models: A 40″ Wide Portable Clean Room Hood and an 18″ Wide Portable Clean Room Hood (pictures not associated with Ecovative Design). Other standard widths include 12″, 24″, and 30″. Custom sizes are also available.
Sentry Air Systems' Portable Clean Room Hoods are equipped with high-quality HEPA filtration [up to 99.97% efficient on particles 0.3 microns and larger] and provide ISO Class 3 and ISO Class 5 environments depending on the model you select.
The video below features Sentry Air Systems Portable Clean Room Hood line for tissue culturing:
---
Ductless Chemical Fume Hoods

Pictured above are two Ductless Chemical Fume Hood models: A 24″ Wide Ductless Fume Hood and a 40″ Wide Ductless Fume Hood (pictures not associated with Ecovative Design). Standard sizes include: 12″, 18″, 24″, 30″, 40″, 50″, 60″, and 70″ wide.
Sentry Air Systems' Chemical Fume Hoods are equipped with Activated Carbon Filtration and can also be suited with specialty-blended media when necessary [i.e. Acid Gas, Mercury, Ammonia, Aldehydes]. These fume hoods can also house multiple filters if your application requires both particulate and chemical filtration.
---
Contact us today to protect your process from contamination or extract fumes for your application! Our application specialist will help you select the best suited product for your laboratory.
Call us today at 1-800-799-4609